You are here
Orson Pratt's Works: A Series of Pamphlets on the Doctrines of the Gospel
Title
Orson Pratt's Works: A Series of Pamphlets on the Doctrines of the Gospel
Publication Type
Book
Year of Publication
1891
Authors
Pratt, Orson
Number of Pages
312
Publisher
George Q. Cannon and Sons
City
Salt Lake City
Keywords
Authority; Book of Mormon; Doctrine; Early Church History; Gospel; Kingdom of God; Prophet; Smith, Joseph, Jr.
Abstract

The labors of the late respected and beloved Orson Pratt, some of whose writings we herewith present to the public, are too well known to require any extended comments from us. His voice has been heard in various parts of the earth bearing a faithful testimony to the truth of the gospel, and in many places where he never was seen, his precious writings have been perused with pleasure and profit by the honest in heart. Thus has his name become familiar and honored among the people of God.

The first edition of his "Works," published in England, have, of late years, been very scarce, and this is one reason why we have been led to republish them. We trust that this book will find a place in every home and be studied by both old and young, so that all may see the beauty of the truths therein explained.

That the Spirit of God may enlighten the minds of those into whose hands this work may come so that they may comprehend and heed its teachings, and that Brother Pratt, though dead, may yet live in the hearts of the people, are the sincere desires of The Publishers.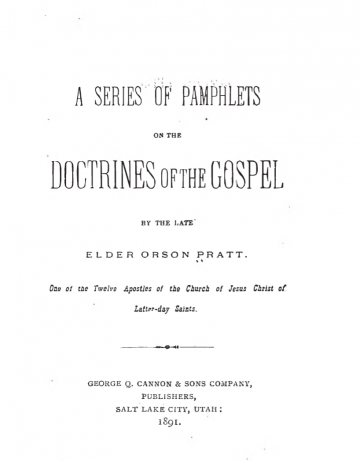 Terms of Use
Items in the BMC Archive are made publicly available for non-commercial, private use. Inclusion within the BMC Archive does not imply endorsement. Items do not represent the official views of The Church of Jesus Christ of Latter-day Saints or of Book of Mormon Central. 
Subscribe

Get the latest updates on Book of Mormon topics and research for free